Bars
Peter`s Professional Projects
Ask us about Our custom made Bars.
Blue Pearl
Bar Frame is Made of wood, drywall, countertops ( Blue Pearl slabs), walls with Gray granite slabs, single sink, mini fridge, 4 Cabinets, mirror walls and glass shelves.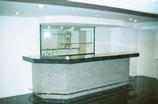 1970 Black & White Style
Wood Frame, finish with wood panel front, black Granite countertop, mini fridge, 4 cabinets, mirror walls, black & white ceramic tiles.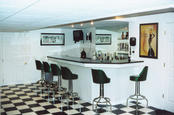 2 sides Bar
Wood frame, drywall, trim, countertop will be light gray granite, with matching ceramic tile floor.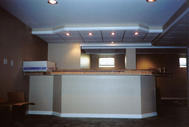 Get your Bar Projects done Professionally By Peter`s Team.
Tel. # (717) 496-8183
Fax # (717) 496-8483
Mpeterland1@hotmail.com